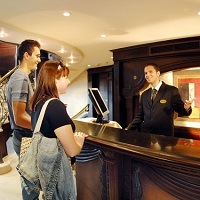 A trip to the holy Char (four) Dhams in Uttarakhand, India, is a journey to find the purity of your soul and it will encourage every pilgrim to lead a religious and righteous life. Doing a Char Dham yatra of Yamunotri, Gangotri, Kadarnath and Badrinath is not easy but during this difficult journey you will get many good options for food and lodging. Want to find the best for you?

It's always suggested to get help of the travel agencies who can securely arrange the best budget, delux or luxury hotels in Char Dham Yatra. A lot of options are available for staying comfortably which easily fits into your budget fulfilling your needs. You also get choices between hotel rooms, lodges, camps, tents and guest houses.

Char Dham Yatra:
1. Yamunotri
Yamunotri is the heart of the Gharwal hill of Uttarakhand which situated at an altitude of 3293 m. It denotes the origin of the River Yamuna. Yamunotri is granted with remarkable beauty with its surroundings of lofty peaks and lush greenery. Hindus consider the trip to Yamunotri as an auspicious one and a serene pilgrimage to visit the Yamunotri temple.

Planning your trip in advance is mandatory to get the best, comfortable and secure stay. You can visit online travel portals to get the desired hotels in the first Dham of your Char Dham Yatra. Doing so in great advance can buy you attractive discounts too. Chauhan Annexe, Hotel Samrat, Karan Palace, Camp Nirvana Barkot, etc. are a few good options for stay.

2. Gangotri
Gangotri is in Uttarkashi. This ancient pilgrim town is located in the middle of the snow-cladded Himalayan range and the River Bhagirathi is passing by. Gangotri is known as the origin of River Ganga. Its serene and enchanted atmosphere attracts every pilgrim to explore various temples and above all, its natural elegance. Adventure-seekers also get attracted by its glaciers!

It's again a smart decision to plan in advance all your stay ad food. Though Gangotri offers a wide range of decent accommodations for the pilgrims but to find the desired hotel according to your needs and budget whether it is an economical one or a luxury, you need to search online. If you are thinking your travel agent will look into the matter then remember finding him is a job too. Shivlinga Tourist complex, monal tourist home, ekant resort, hotel jahanvi, shikhar nature resort, etc. are a few good options for stay.

3. Kedarnath
This is another popular Dham of the Char Dhams that is found on the outstanding Himalayan range. The route to Kedarnath is said to be the most difficult one among the Four Dhams. The religious pilgrims do Kedarnath Yatra every year to show their devotion to Lord Shiva with pure minds. This Dham offers a perfect bonding of spiritual and cultural feelings.

Try to get a hotel in Kedarnath that can provide you the desired warmth of hospitality according to your convenience. Punjab Sindh awas, char dham camp, hotel shubham, monal resort, etc. are a few good options for stay here.

4. Badrinath
During their pilgrimage to Badrinath, people show their devotion to Lord Vishnu. Hotels are available in a jiffy here. Sarovar Portico, new hotel snow crest, Narayan palace, hotel dwarikesh, etc. are a few good options for stay.

Find your hotels in your Char Dham yatra as it will help your mind and body to relax and to get a fresh new you the nest day to do the holy yatra.