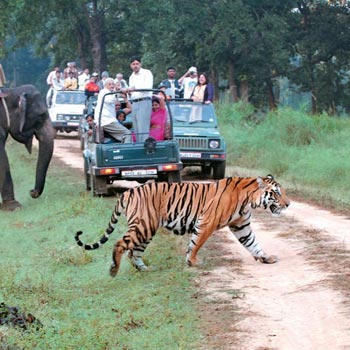 Early morning enjoy jungle safari at the Corbett National Park (at your own cost). Return to the resort for breakfast. In the afternoon,
visit Corbett Wildlife Museum, Dhikala which offers an awesome uninterrupted panoramic view of the valley. Back to the resort.
Dinner and overnight at the hotel.
Corbett Tiger Reserve: India's first national park, cradled in the foothills of the Himalayas at 3300 feet asl, spreads over an area of 520
sq km. The magnificent Ramganga River flows through the entire length of the Park. Corbett has the highest density of tiger in India.
Other carnivores include the leopard, elephant, bear, deer. Basking along the banks of the Ramganga are the slender snouted gharial
and the marsh crocodile. There are watch towers, elephant safaris and jeep safaris for wildlife viewing.
Meals : Brakfast & Dinner